Interior Design with Fresco I
We are located in Italy and Rockville MD, but we deliver our fantastic wall art everywhere in the world
Would you like to see some of our wall decor paintings? Check out the many galleries on our homepage
 ... you can also start by taking a look at the pictures below...
Ceiling fresco (Naples, Florida)
This beautiful cassoned ceiling has been decorated with our panel frescoes, painted in Italy and shipped to Florida, via Rockville. The panels have been entirely painted by Frescoarte's own artist Sergio Bonometti.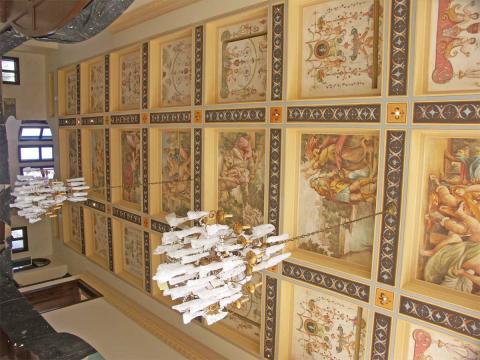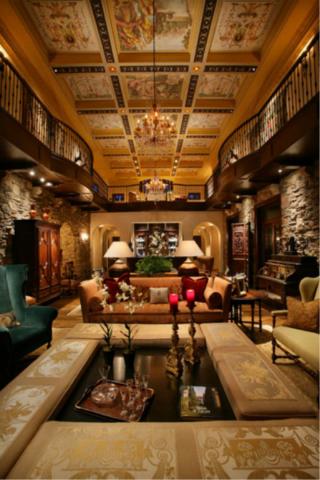 A special landscape for an unforgettable dinner (mural art in a restaurant, in Italy)
A work in progress image to show you how our artists work. This dining hall, belonging to a restaurant in Italy, has been inspired by late-Renaissance frescoes. All contributes to create a timeless atmosphere, perfect for the finest of dining experiences. Here, our artists have worked on location, painting directly on the walls to be decorated.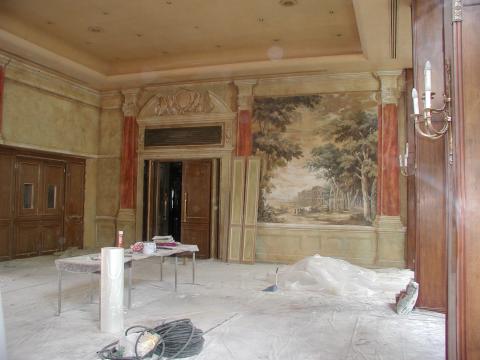 Beautiful trompe l'oeil, perfectly executed
Trompe l'oeil (French for, literally, cheating the eye) remains one of the most suggestive of all pictorial techniques. It has been commonly used for centuries, especially in the Baroque period, to create an illusion of depth, height or space, to give a tridimensional feeling to bidimensional figures and to define architectures with the sole use of painting. Our artists have mastered this technique, as the pictures below show.